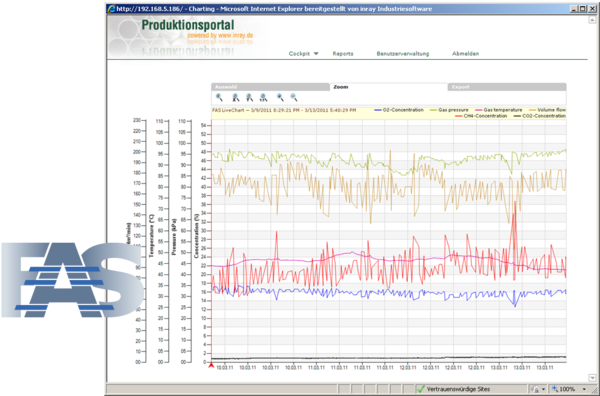 MDA/PDA-modules of the Factory Application Server
Various modules are available for the realization and extension of your projects. The gradual introduction is just as possible, as a continuous expansion.
PDA-modules connect database applications to the FAS.
We – or yourself – develop MES-projects to measure.
FAS Database-Module
Web-Forms and Live-Ads
Whenever information on paper is passed from workstation to workstation, the database module makes sense: An FAS-page for data-entry and -display is quickly configured. Once entered, the data is available to all workstations and also serves as a basis for reports or charts.
data display
All elements for data display access the database via the module: individual values, lists, status lights, progress bars, Gauges, XY charts… The displays update automatically when the data position changes ("live display"), e.g. after calculations in the database, changes to filter criteria (PLC-data!), data transfers from external systems.
Technical data of the database module
Connection of SQL-capable database-systems
one module-license, any number of systems
FAS-internal data-views can be configured – e.g. for data-filters and sorting-criteria
Triggering of stored procedures with parameter transfer and processing of the results
Upload/Download in Excel-format
Basis of complete web-user-interfaces also for existing database-applications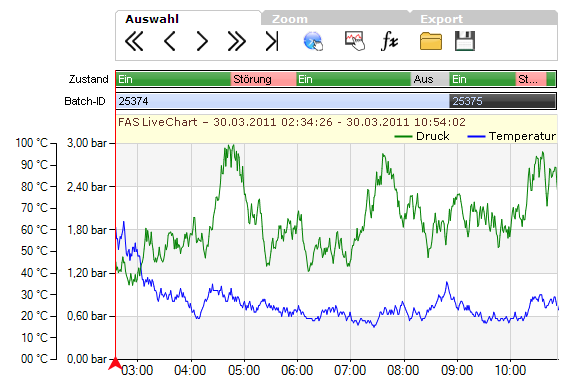 Live charting-module
Monitoring and analyzing processes
FAS Live Charting displays historical data in a diagram – from simple curves to points, columns, surfaces and Gantt-bars. The display is also freely configurable for the operator. Limitation of time-periods (batch selection, batch comparison), period-comparison, precise value-display and zoom are a matter of course. In live-mode, the chart runs in real time and updates itself as soon as new data is available.
Highest possible flexibility
Data can be collected from different databases. Reusable layout-templates and free text-/color-assignments for Gantt bars. Individual templates are also possible for exports. The operator can switch data sources on and off – even during runtime. Personal configurations can be saved.
Technical Data Live-Charting
Free connection of SQL-based database-systems
Minimum requirement for data tables (value, time stamp)
Sorting of data-sources into existing hierarchies (topology, master data structure)
Chart-export in PDF and Crystal-format, data-export in Excel-format
Statistical calculations for current values
Calculated graphs (e.g. summation of individual graphs), formula-editor with function-library
Data-grouping to display average, minimum, maximum…
Support of touch-screens (pinch-zoom, drag-scroll)
FAS web-reporting-module
Reporting – directly in browser
Reliable reporting is an indispensable tool in every company. FAS Reporting allows you to create comprehensive reports directly from the FAS we- interface with minimal effort – programming skills are not required.
You simply select the desired reportlayout via drag & drop on the graphical interface in FAS and set the query-criteria. Extensive integrations for individual requirements can easily be displayed – and can also be changed at runtime. The data of your centralized, uniform reporting-system is always up-to-date and can be retrieved on mobile devices.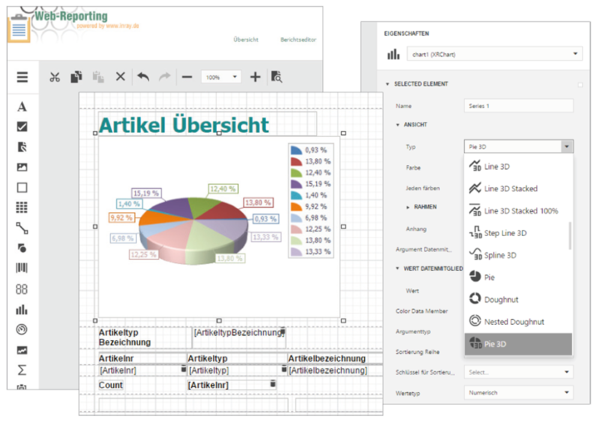 Technical Data of the FAS Web-Reporting module
Preparation of own reports via web interface in FAS – 100% web-based (HTML5) – without programming
Access to any accessible data source (e.g. from FAS-inMOVE, FAS Views, Stored Procedures, Live Chart) and integration via wizard
Create charts with independent data-sources
Convenient data-grouping possible via wizard
Barcode generation possible
Subreports – easy integration via drag & drop and input of query-criteria
Parameters can also be changed at runtime
Export to PDF, Word, Excel, RTF possible
Current reports: Always with the latest data-status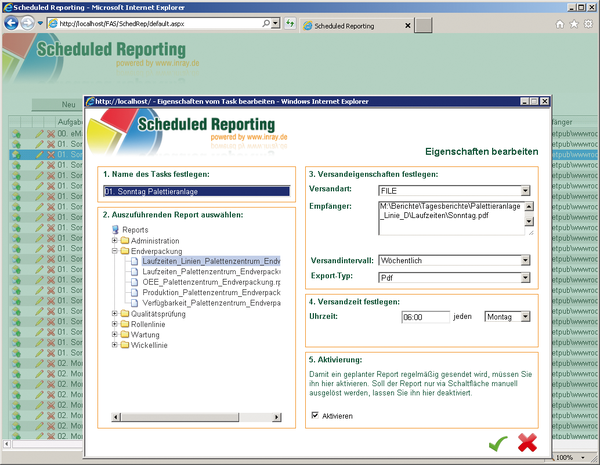 Scheduled Reporting
Scheduled Dispatch with Scheduled Reporting
With Scheduled Reporting, current reports can be distributed by e-mail, to printers or in a file system like Word, Excel or PDF-files. You set the recipient-groups, query-parameters and appointments conveniently via a provided web-interface.
Technical Data of Scheduled Reporting
Report-creation and -dispatch at regular intervals, down to the second
can also be triggered manually with click of a mouse
Report-formats PDF, RTF, Word, Excel
Dispatch by E-mail
Storage in file-system
Output to selected printers
Photo credits: © inray Industriesoftware GmbH