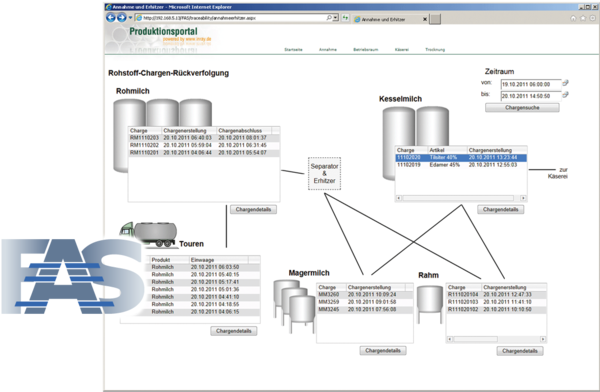 MES modules, maintenance & repair, traceability
Modules for production planning, maintenance & repair and traceability, support you in your project planning and project flow.
FAS maintenance module
With the maintenance module you schedule maintenance procedures and accept the acknowledgement after completion of the maintenance procedure. You can flexibly structure the components of your systems and assign tasks to employees or employee groups. Maintenance types are freely defined, instructions and technical data sheets are supplied. Employees confirm the maintenance including the working time and initiate further procedures if necessary. The collected data serves as a basis for verifications and audits.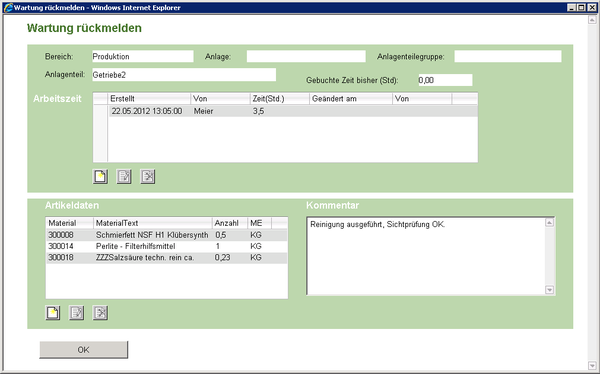 Extension: spare parts depot, auditable documentation, alarming
With the FAS modules for spare parts depot-management, reporting and scheduled-reporting and the OPC router, you extend the core functions to a complete maintenance management-system including auditable maintenance-documentation and optimization-processes (downtime minimization through maintenance bundling).
Technical data maintenance module
Hierarchical representation of systems and components
Integration into existing master data structure
termination
dynamic recalculation after breaks in operation
Informing employees about upcoming maintenance work
Free definition of maintenance types
Compilation of the necessary documents such as order, instructions, safety data-sheets
Receipt of confirmation
permanent storage of data
optional: termination according to machine states (e.g. switching cycles)
MES-modules
In principle, MES modules can run without further modules/project planning and provide basic functions for the tasks described.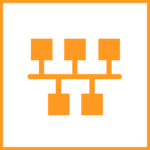 The tasks of recipe management are the creation of recipes, their logged changes and the control of externally loaded recipes. During planning, the system uses the production recipes in conjunction with order and warehouse management to check whether the required raw materials are available. You can use this module not only for production, but also for cleaning processes (CIP), for example.
Structured Recipes (Master/Sub-Recipes)
Step recipes
Transmission to the controllers (via order management)
Cascading version control (output versions are retained)
Recipe structures freely configurable
Storage of all recipes and versions in database, loading of the respective current version into the controller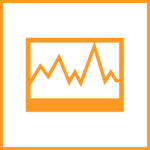 Order management coordinates production: After receipt of the order data (via transmission or input), the module determines possible batch sizes based on the recipes and stocks. Available materials are reserved, recipe and header data are transferred to the PLC.
Determination of possible batch sizes
quantity determination
residual quantity processing
Cyclic header data-transfer (configurable)
Recipe transfer to the PLC
material reservation
Planning by production lines
Connection of external systems possible (optional project planning), e.g. production orders from SAP systems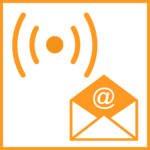 The storage module ensures a smooth exchange of information between warehouse and production. The raw materials are reserved on the basis of the order and recipe data and are blocked for other batches. Materials are managed on a batch basis, taking into account the storage location type. All bookings are documented and traceability is supported accordingly.
Booking of stock-placements and -removals via barcode or manual entry
Rebooking, empty-bookings
Material reservation
Consumption-booking after PLC-confirmation
Manual locks and releases
Batch management by storage location type (e.g. "tank" = "batch mixing")
Releases according to criteria such as batch, line, priority
Availability-check for containers, automatic log-on and log-off with support of the system
Coupling with conveyor-technology possible
Master data management
Posting history for traceability
Traceability with the FAS
Seamless traceability of all materials, raw-materials and finished products: FAS Traceability tells you, what was processed where and when and how. You interactively select raw material, intermediate or end product and see all upstream and downstream processing stages throughout the entire process chain. Live in web or optionally as a PDF-report.
Ready-to-use, database-supported module
Defined PLC-interface for taking over the required data
Batch-data is available live, immediately after transfer
Interface to QA-systems (LIMS, HACCP…) for corresponding verifications of the batch
Graphical representation of the process-chain with customer-specific "entry points"
Analysis from each process unit forwards or backwards to the beginning and end of the chain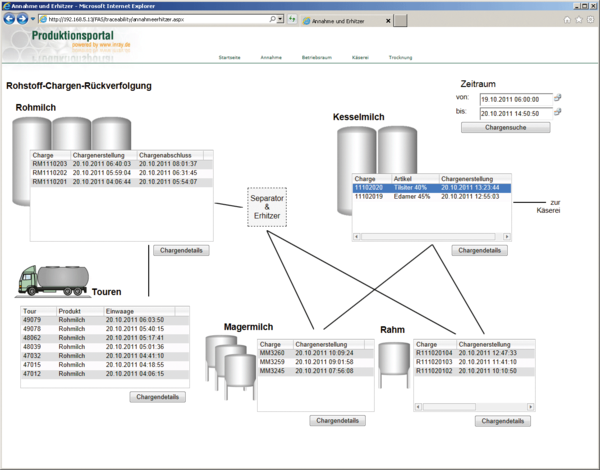 Photo credits: © inray Industriesoftware GmbH