FAS energy portal
Visualize and monitor energy consumption
With the FAS energy portal from inray you have an overview of all consumption: plant-, company- and group-wide. It enables the seamless recording, immediate billing and current presentation of your data. Get a quick and easy overview with your web browser.
Your advantages at a glance
manufacturer-independent through open standard interfaces: e.g. OPC for connecting PLCs (Siemens, Wago…)
Consumption monitoring within the scope of ISO 50001
100% Web: Access from PC, Tablet, Smartphone…no installation necessary
one server license, data points/tags and clients license-free
Compose your own monitoring of the recording and visualisation of energy consumption. In addition, all FAS-inMOVE-functions (process visualization) are included.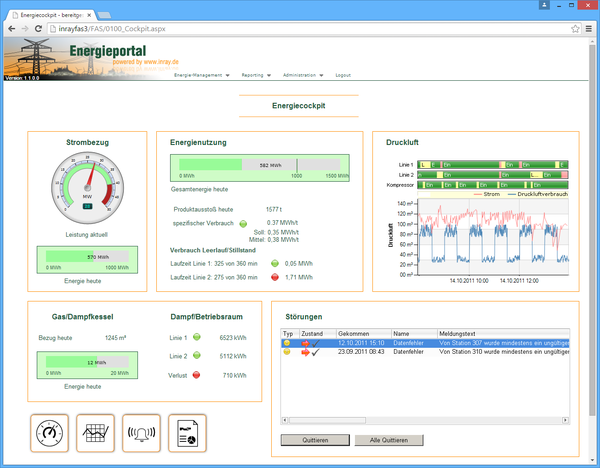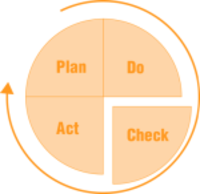 Plan – Do – Check – Act
Monitoring of resource consumption is an important part of energy management in accordance with ISO 50001; live monitoring in the cockpit and alarms enable rapid response; detailed reporting serves as the basis for long-term analysis and monitoring the success of energy-saving measures.
Performance attributes
Actual values from meters and databases are displayed on the individual web cockpit by the FAS energy portal. Live charts can be displayed with graph and Gantt bars, data from different time periods can be compared and individual values can be displayed at any time. Material and energy flows can be shown in the Sankey-diagram. The reports of the energy portal are freely configurable and parameterizable. Target/actual-comparison-representations are just as possible as the representation of a success-control of process engineering measures. E-Mail-alerts (with escalation) are possible via freely definable criteria. Document-management is provided for operating and maintenance instructions, networks, etc. Existing company hierarchy/topology can be integrated individually.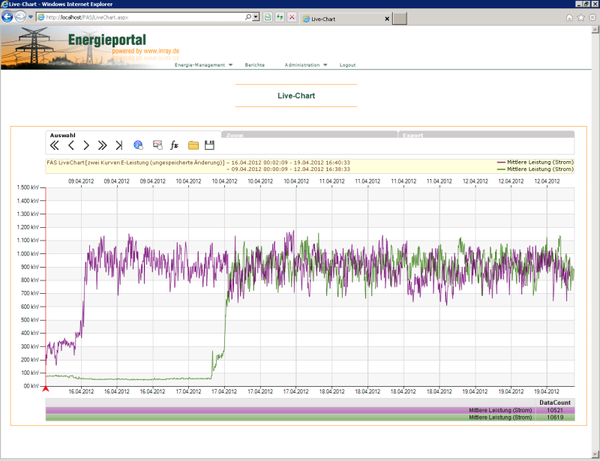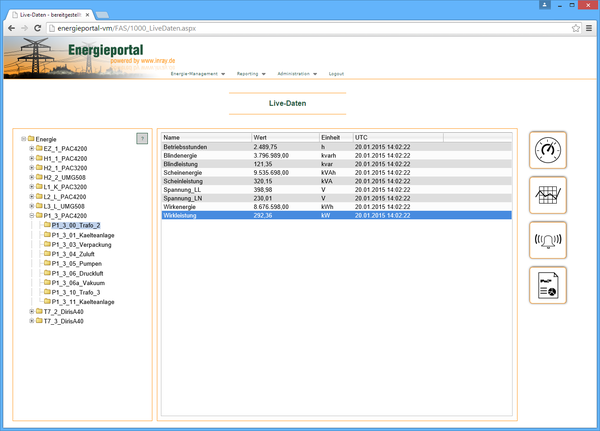 Energy monitoring with the FAS energy portal
Recording of consumption types with free subdivision, e.g. electricity, compressed air, refrigeration, heat (gas, oil), water
Simple connection of measuring devices/PLC data points via FAS-inMOVE
Transfer of production data for the calculation of specific consumption-indicators (by product, product group, periods…)
Calculated data points: Formula-editor for calculating data points (e.g. for KPI/EnPI calculation)
Logical summary of physical counters/measuring points (e.g. cost center assignment, evaluation by department, asset groups…)
Additionally: manual input of counter-values from devices without connection
Free definition of key figures (Energy Performance Indicators EnPI)
Reducing costs with the FAS energy portal
Finding potential savings with the energy portal
Finding potential savings with the energy portal
The analysis is followed by process engineering measures or work instructions to reduce consumption. The continuous recording and impact makes a corresponding success control possible:
Cutting off peak loads
Detection of leaks in the compressed air system
Optimization of downtimes
Work instructions: Reduction of water consumption during manual cleaning processes
Increase energy efficiency - reduce consumption - save costs
Increase energy efficiency – reduce consumption – save costs
Recording of system status and machine states
With the FAS energy portal you make your company's energy consumption visible to all employees involved! You can only influence what you see consciously.
And what's the point?
A small measure that did not even cost anything can easily reduce costs: For example, the operator shifts the switch-on of a drive to the point at which it is really needed. In the period comparison he sees the success directly.
Finding potential
If you know the target consumption values of the individual consumers, you can use the FAS energy portal to output target curves depending on the recorded system status. This enables you to recognize your savings potential even faster.
in cold print: What is the benefit
Reports from the FAS energy portal clearly show you the individual differences. In relation to the production volume, this results in a meaningful indicator (KPI, also EnPI for Energy Performance Indicator).
Promotion of energy management systems
Promotion of energy management systems
The Federal Government supports the introduction of energy management systems. The Federal Office of Economics and Export Control was entrusted with the administration of the programme by directive dated 22 July 2013.
Funding will be provided for
initial certification of an energy management system according to ISO 50001
initial certification of an energy controlling system
Acquisition of measurement technology
Acquisition of software for energy management system
inrays energy portal is listed at the BAFA as eligible software. Funding/applications are made through the BAFA, please contact us for more information!
Status of information: 04.09.2013
Photo credits: © inray Industriesoftware GmbH