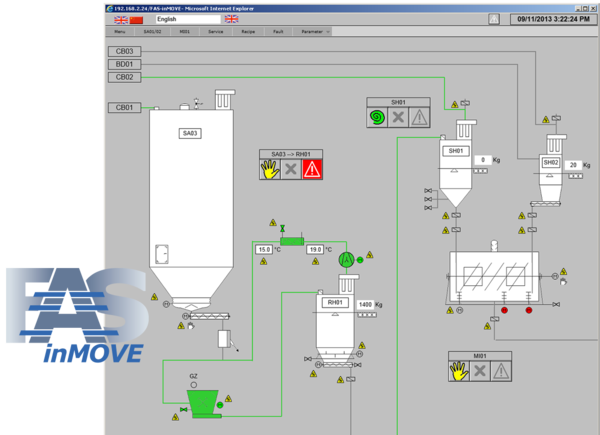 FAS-inMOVE Operation & Monitoring – Visualization without limits
100% Web. 100% HTML5
From any web-enabled device – not only the office PC, but also smartphones or tablets – you can access your system visualization via browser, view actual values, charts with histories and alarms.
Possibilities with FAS-inMOVE
Machine data recording
System visualisation
Display of actual values
Display histories in the live chart including Gantt bars
Alerting via website and e-mail
Flexible user administration with freely definable groups/roles
Audit trail: logged operating actions
no limit in the number of application pages, data points, clients and users
no client installation: Any device with a web browser can be a client (tablets, smartphones…) – without plug-ins
Retention time for historical data configurable
PLC monitoring
formula-editor
Multilingualism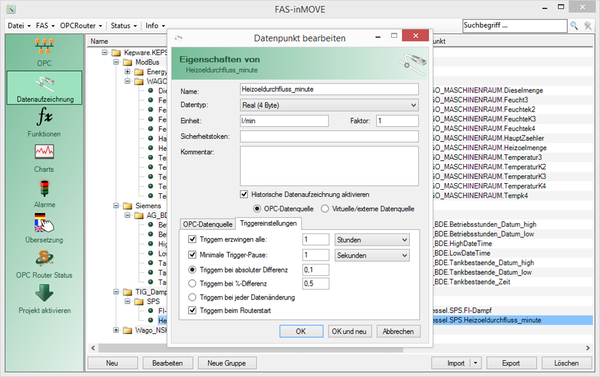 Setting up the HMI system interactively via assistant
FAS-inMOVE guides you reliably on the server with an assistant through the connection of the data points and setting up the alarm criteria. All required components are installed automatically via a setup.
The web visualization of your menu pages is done by graphical designers, without additional programming.
After installation, it takes only a few minutes for the system to record the first data.
Visualization/HMI/SCADA directly with your browser
With FAS-inMOVE, you can display all data on your screen in shortest time and make flexible changes.
Via PC, tablet or smartphone, you can keep an eye on your projects at all times – without extra installation, the web browser is sufficient.
Simply combine your process visualisation – with history recording, alarming and system operation.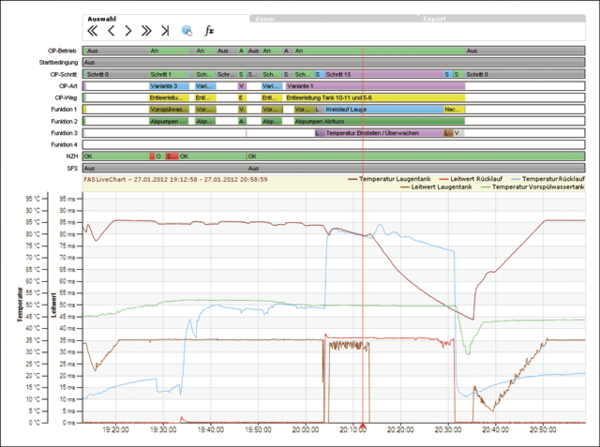 Connection of OPC servers. FAS-inMOVE supports the OPC standard and knows no limit in the number of OPC servers. Local or remote – DA or UA.

Definition of data points. Import of entire OPC tree structures or individual branches, import of Siemens PDF. Recording as history or live data point. Flexible recording criteria. Processing of large data point lists via Excel.

Calculated data points. Formula editor for the configuration of calculated data points, e.g. sum of several data points. Function library e.g. for trigonometric functions or complex if-then queries.

Chart-layout. Definition of layouts for individual histories such as color, value range, Gantt bar. The settings are suggestions that can be changed for each individual chart image, even by the operator at runtime.

Alarms. Flexible alerting with escalation strategy via e-mail list, message in the visual and desktop notification. Criteria are limit value violation, status or message bit categorisation of the messages and acknowledgement with comment.

Multilingualism. FAS-inMOVE automatically reads the words and phrases used in your projects. You translate into any desired target language.
Process visualization with the graphical designer
With graphical FAS-Designer you combine your process visualization with finished elements. Your start-project already contains current value and alarm lists, live charting and user management. Add more pages easily – without limits on the number of pages, plant pictures or data points.
It is just as easy to implement cockpit pages: With further charts, data lists, speedometer displays, pie charts, progress bars…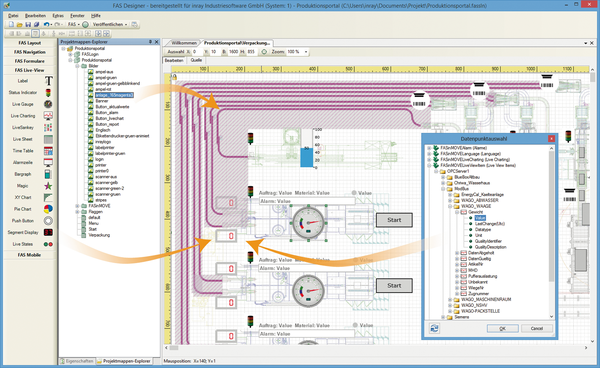 One server license. No limits
FAS-inMOVE license is valid per server
no limitation in the number of OPC-connections
no limit in the number of data points
no limit in the number of operating pages/system pictures
no limit in the number of clients/users
Photo credits:© inray Industriesoftware GmbH