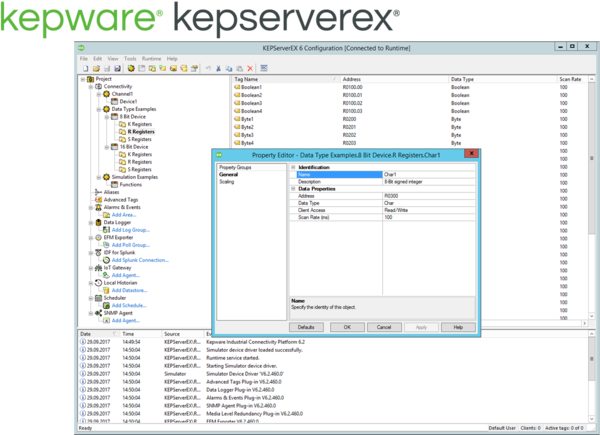 KEPServerEX – Basis for Industry 4.0
An OPC server as central source for industrial automation data
The powerful OPC server from Kepware (KEPServerEX) offers with drivers for more than 160 different controllers all possibilities to realize your OPC networking. Kepware OPC Servers deliver via the OPC-UA-interface a reliable data basis for your industry 4.0-projects. KEPServerEX solves common connectivity problems and provides secure and reliable access to real-time industrial-data. Kepware OPC servers are extremely reliable and OPC/UA-capable.
inray Industriesoftware is as Preferred Distributor (Preferred Partner) the preferred Kepware-sales-partner for Germany and offers commissioning and training, carried out by certified Kepware trainers, as a service on request.
Further information about KEPServerEX from Kepware click here:
Central communication with the OPC server
KEPServerEX brings data and information from various sources together. For end applications, the number of external communication connections is reduced, increasing reliability. The use of network, device and system-resources is kept narrow, minimizing interruptions in the dataflow. A single, easy-to-manage and freely scalable platform bundles all your communication in automation.
All communication and data processing of the OPC server takes place on a single server platform with the individual device-drivers as plug-ins: They control all channels on one interface.
KEPServerEX provides a uniform, easy-to-use interface for all communication requirements.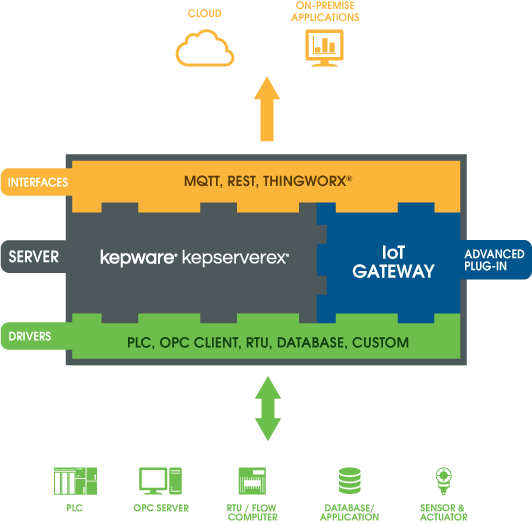 IoT-gateway
The proven OPC server KEPServerEX from Kepware Technologies provides an IoT gateway (Internet of Things), which connects the automation to Internet/cloud-based software systems. The IoT aims to make all hardware and software components Internet-capable and enables more intelligent automation. With more than 160 communication protocols/OPC drivers of the KEPServerEX, the IoT-Gateway can transfer data from industrial sensors and machines into cloud-based software applications. The IoT interfaces REST, MQTT and ThingWorx are supported.
In the opposite direction, data can be written via the REST interface, e.g. in OPC data points (controllers / PLCs). KEPServerEX closes the gap between automation and modern Internet technology.
OPC tunnel with Kepware
An OPC tunnel can be implemented between two instances of KEPServerEX. The systems are coupled via OPC UA plug-in and OPC UA client drivers.
OPC communication in the network is also possible over firewalls with TCP/IP. An upgrade to OPC/UA avoids problems with DCOM, but the connection of OPC-clients and -servers can also be realized with older specifications. Encrypted communication in distributed systems offers maximum security, the OPC client/server is also redundant. Defined data points are provided in a controlled manner and a shift of the computer load to newer systems is possible at any time.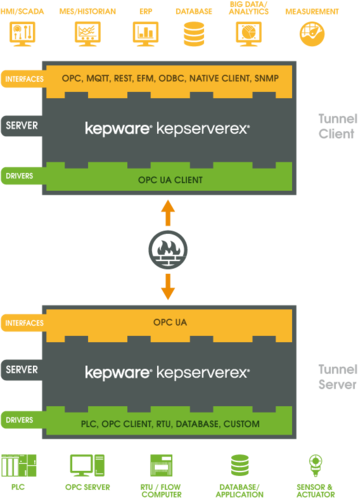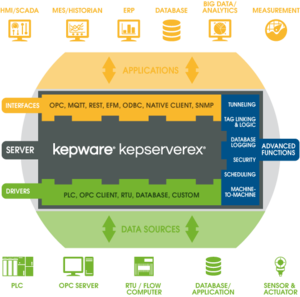 Interfaces
Standard interfaces such as OPC DA, OPC AE, OPC UA, OPC DDE, OPC XML DA, SNMP Agent, MQTT, REST, HDA and coupling with relational databases are integrated. But also specific interfaces like Wonderware, Suitelink, GE NIO or Oracle are available.
Free scalability
The Kepware OPC Server KEPServerEX adapts to constant changes in production operations without disturbing existing systems. Its modular design constantly provides new and improved functions – for all automation components. Installation of additional device drivers is possible at any time and as required.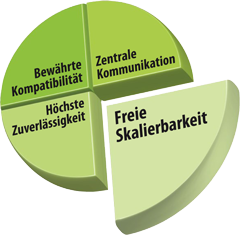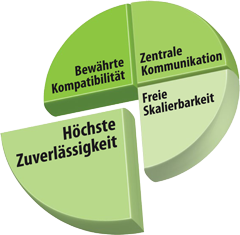 Highest level of reliability
KEPServerEX meets the highest quality standards. Highly robust, user-friendly and certified OPC-compliant (OPC/UA server) – certified by independent tests by the OPC Foundation. The OPC server KEPServerEX enables encrypted client-server connections – with OPC/UA and OPC.NET also firewall-compatible. Already 15 top automation vendors integrate the Kepware Server as OEM version into their solutions.
Driver available for …
Allen-Bradley, Analog Devices, Aromat, Atlas Copco, AutomationDirect, BACnet, Beckhoff, Busware, Cisco, Contrex, Control Technology, Cutler Hammer, Dataforth, DGH, DNP, Enron RTU, Fanuc, Fisher ROC, Fuji Flex, GE Fanuc, GE Focas1, Hilscher, Hirschmann, Honeywell, IA Super SEL, Idec, IOTech PointScan, Koyo, Krauss Maffei, Micro-DCI, Mitsubishi, Modicon, Modbus (ASCII, PLUS, RTU), Moxa, Network Management, N-TRON, Omron, Optomation OptiLogic, Partlow ASCII, Philipps, Profibus, Sattbus, Scanivalve, Siemens, Sixnet, SNMP, SquareD, Stanley, Telemecanique Uni-Telway, Thermo Westronics, TIWAY, Toshiba, Toyopuc, Triconex, Wago, WeatherBug, Wonderware, Yaskawa, Yokogawa…
Didn't find what you were looking for? Then we create an individual protocol with the U-CON protocol server…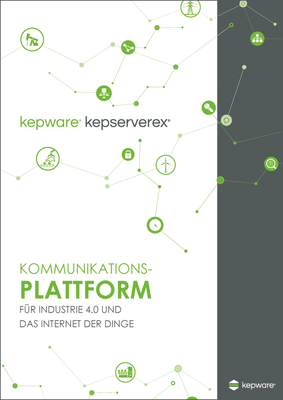 KEPServerEX Product-Brochure
NEW: Now also available with CODESYS® Ethernet driver!

The CODESYS® Ethernet-driver for KEPServerEX provides seamless connectivity to devices with CODESYS® version 3.0 to provide access to real-time-industry-data for MES, SCADA, HMI systems and other data acquisition and analysis-tools.
Features of the CODESYS®-driver:
Real-time data access to devices with CODESYS® 2.3 (read-/write-authorization)
automatic tag-generation directly from the device
Support for symbolic addressing
Ability to diagnose connectivity problems based on seamless integration with the CODESYS® API
inray is official sales-partner for Germany
inray Industriesoftware is official Kepware distributor (Preferred Distributor) for Germany. With the distribution of Kepware products in Germany and other countries, we replenish our portfolio not only with further high-quality components, we also offer you commissioning, German-speaking support and KEPServerEX training courses by Kepware-certified instructors/trainers as a service.

Further information about KEPServerEX
Supported OPC-specifications
Supported OPC-specifications
Powerful OPC server with over 160 available protocols // configurable as Windows service // configuration changeable at runtime // communication via Ethernet and serial ports // CSV import and export of symbol configuration // detailed logging, configurable // drivers for network and system monitoring // OPC DataAccess 1.0a, 2.0, 2.05a, 3.0, alarms & events, DDE // OPC Unified Architecture
System Requirements KEPServerEX Vers. 6
System Requirements KEPServerEX Vers. 6
Windows 7 Ultimate, Enterprise and Professional, Windows 8 or 10 or server 2008 R2, 2012 or 2016
2 GHz processor
1 GB RAM
180 MB hard drive space
Ethernet card
Super VGA (800×600) Graphic Minimum
Video-Tutorials
Video-Tutorials
The following tutorials are available to help you get started quickly: