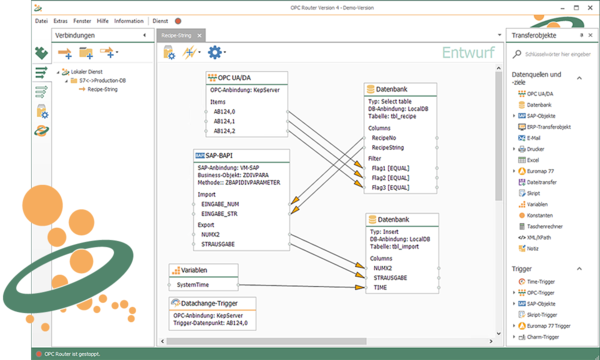 Coupling production and SAP®-systems
With the OPC Router, the entire production network can be connected to the office software. The plug-in for SAP® systems from inray is certified as "SAP® Certified Integration with SAP® NetWeaver".
OPC Router plug-in for connecting SAP®-systems
The plug-in for SAP®-systems enables connection to the ERP-system most frequently used worldwide. The connection is made on the production-side via database plug-in or via OPC plug-in directly to the controllers, on the SAP®-side via standard interfaces IDoc, BAPI or via direct RFC call.
Integrate your entire production with the SAP®-system. Communication between SAP®-system and PLC takes place synchronous via BAPI/RFC or asynchronous via IDocs.
An alternative connection of WebServices is possible.
No limits in the number of data points and connections.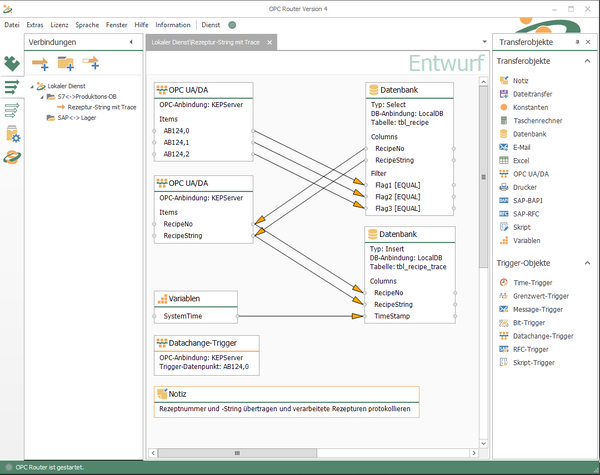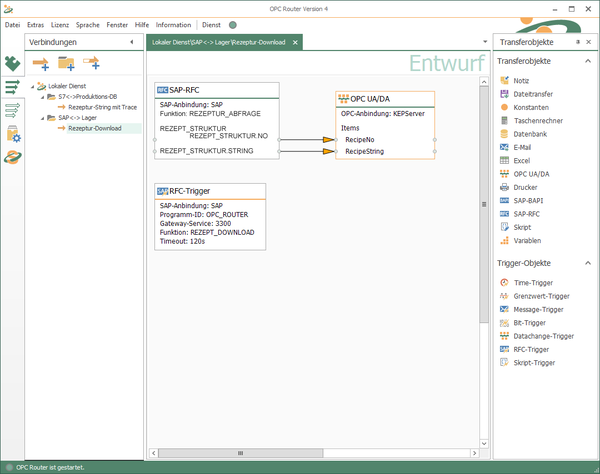 Application Scenarios for coupling with SAP®-Systems
Download of production orders and recipes into the production database or directly into the PLC.
Storage location-requests by the PLC, releases and transfer orders from SAP®-system in response
Production feedback by PLC, booking confirmation by SAP®-system
Consumption reports and daily material status reports (with automatic recording without manual intervention)
Storage-/retrieval-releases and orders
process data acquisition
Connection of energy meters
Communication without programming
All communication is set up without programming, but via graphical configuration. If changes are made in a participating system, only the OPC router project usually needs to be adapted. All other communication partners are not affected.
BAPI as standard interface
BAPI as standard interface
"BAPI" stands for Business Application Programming Interface (Programming-Interface for Business Applications) and is also the first object-oriented approach in the SAP®-world.
BAPIs are long-lived over many releases and therefore offer a certain degree of implementation security. In addition, they can be developed by the customer himself, whereby SAP® already provides a certain amount of standard BAPIs. BAPIs and function-modules can therefore be called very easily.
IDocs as standard interface
IDocs are structured text documents that are transferred to the SAP®-system or generated by the SAP®-system. The IDoc type defined by the SAP® system determines which elements the IDoc can contain.
IDocs with the OPC Router – sending and receiving easily:
The OPC Router automatically generates the IDoc of the required type, describes it with the current data from the controller (PLC) and/or MES (control system) and sends it to the SAP® system. The SAP® system can activate the OPC router in the opposite way. The OPC Router waits for the IDoc and forwards it to the controller or MES.
RFC-support with the OPC Router
RFC-support with the OPC Router
The OPC Router with the SAP® PlugIn supports RFC calls and integrates into any modern SAP® NetWeaver-architecture.
The OPC Router can also act as an RFC-server via triggers.
SAP® tables can thus be read directly via RFC, for example.
Photo credits: © inray Industriesoftware GmbH