Please also visit our product website for OPC Router
with complete details, information & our OPC Router Blog
OPC Router – The industry 4.0-software
The continuous optimization of your production processes is crucial for the quality of your products and ultimately for the success of your company.
Replace old communication channels step by step with the OPC Router – up to complete integration of PLC (programmable logic controller), PCS (process control system), SCADA, SQL-server, label printers, email-server and ERP-systems (ERP: Enterprise Resource Planning).
As a central communication platform, the OPC Router offers you automated data exchange by integrating all systems and isolated solutions.
By recording your process data you have a continuous overview of the current production. In addition, you are completely independent and create new projects yourself. We would be happy to train you!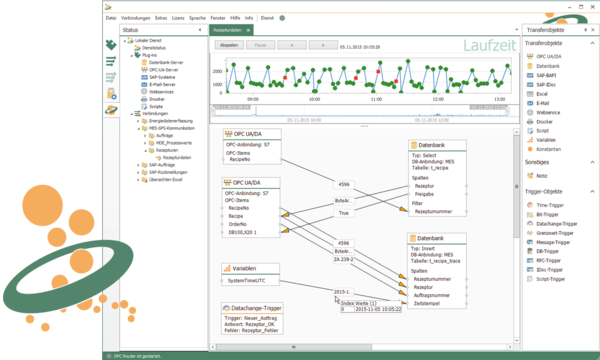 The router is based on standard interfaces for data exchange across all automation levels
The recording of process values, production figures, downtimes and -reasons or consumption, provide you with the basis for optimizing your production
Connectivity between automated systems is event-driven
Individual connections and transfers are created via user-friendly graphical configuration
Latest middleware for your IoT- and Industry 4.0-projects
Various connection types are implemented via plug-ins
Further information about OPC Router and plug-ins click here:
OPC to SQL – data exchange with SQL-databases
Databases are an important source and target for data at the various production levels. Production processes must be provided with ordering information, recipes or machine data. Large amounts of data are generated and must be stored. All this is an aspect of IoT (Internet of Things) and Industry 4.0.
The OPC Router is a middle-software, that connects databases and different sources and thus drives the idea of IoT and Industry 4.0.
Easy implementation and administration maximize remote data access while keeping operating costs low.
The OPC Router offers an easy and secure way to access data
Independent of the database provider: MS SQL, Oracle, MySQL, PostgreSQL, ODBC,…
Integration- and ETL-tools for all systems and isolated applications
Setting up machine-to-machine applications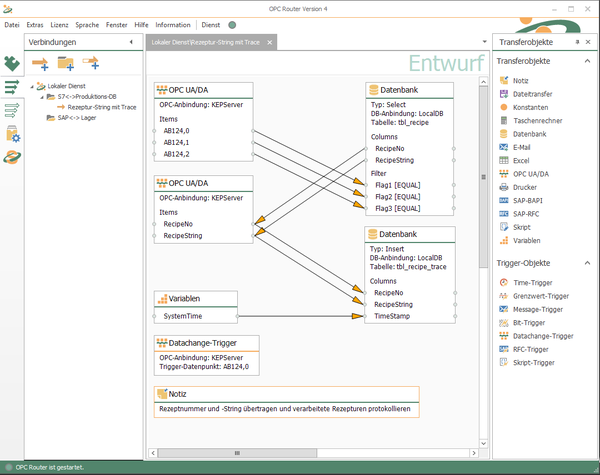 OPC UA – the communication-standard of industry 4.0
What is OPC UA? OPC UA is a platform-independent option for communication between different devices. It is used in all automation levels and enables the connection between a variety of systems. OPC UA is therefore treated as one of the most important IoT / Industry 4.0-protocols. The OPC Router operates as OPC client software for OPC DA and OPC UA: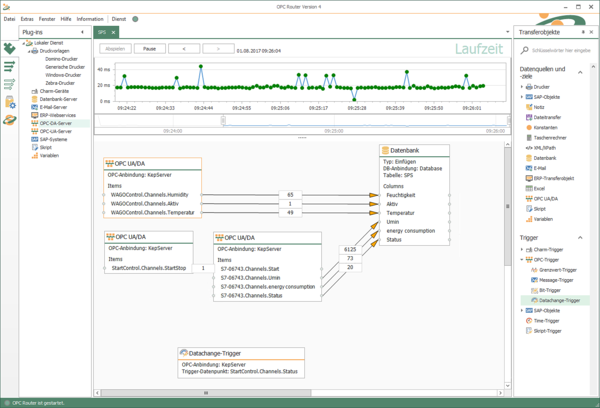 With the OPC plug-in, you can read and write data points from OPC servers, ideal for industrial data acquisition from any PLC or other device
Full performance for your secure communication
Transfers are triggered cyclically when data changes occur, per bit, counter or limit value is exceeded. Bit feedback in case of successful or faulty transfer
The OPC router can serve as a data logger machine-to-machine gateway, IoT-driver or gateway between PLC and other systems, such as ERP, database or e-mail
Coupling production and SAP®-systems
With the SAP®-plug-in you can easily connect SAP®-systems (as of R/3 4.5)
For more information about the SAP® plug-in, click here
Communication takes place on the SAP®-side via standard interfaces or individually created BAPIs, RFCs or IDocs
No programming skills are required, the connection is created conveniently via the graphical configuration
Link PLC, MES or other systems directly to SAP and save time by avoiding manual data transfer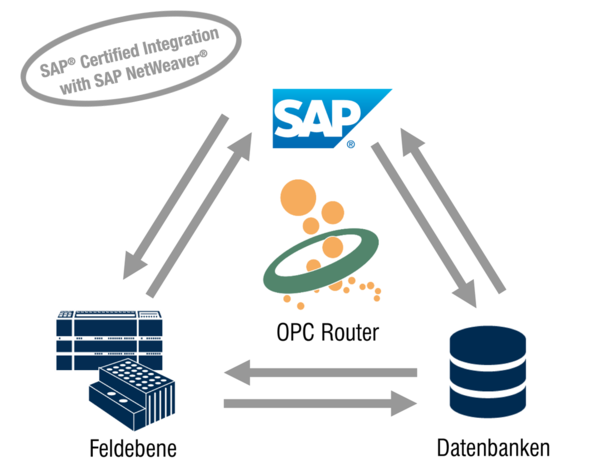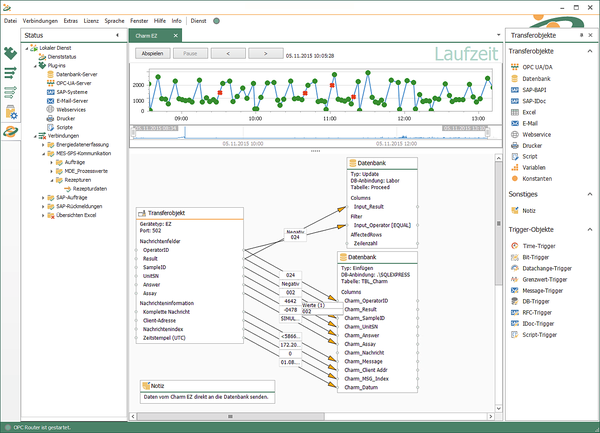 Live diagnosis in the OPC Router
Live view (visualization) of transmitted data
Data transfers can be controlled live and historically
Diagnostic messages from transfer objects are displayed directly on the object
Plug-in for automatic e-mail dispatch
Email is still the easiest and fastest way to distribute information to users and integrate it into their normal workflows. With the OPC Router you can create e-mails to any triggers in your system and fill them dynamically with data from different sources.
Fault messages, consumption values, production figures and other values from your production are provided in real time
Use the SMTP protocol to send e-mails
Free definition of e-mail texts with variable fields, filled with information from other data-sources such as PLC (via OPC), databases, ERP / MES systems, …
Different types of triggers are sent in emails to control time and conditions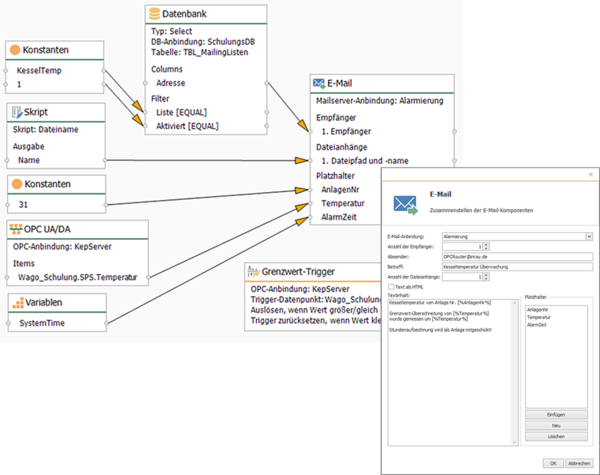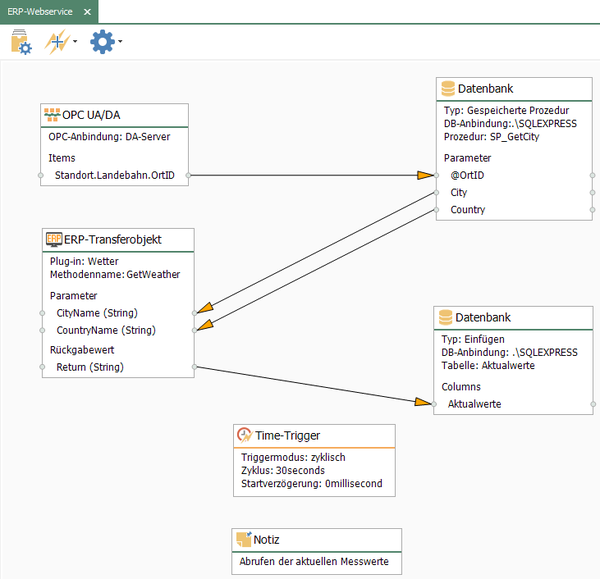 Connection of Web service interfaces
The plug-in for ERP-systems ensures data exchange via a web service interface
Calling predefined functions after integrating the WSDL-file
No further programming is required
The graphic label designer
Creating labels with text, barcode, images or graphic elements is very easy with the OPC Router Onboard Label Designer. The variables are occupied at runtime in OPC Router when label printing is triggered. Supported printer types:
Windows printer
Zebra (ZPL)
Domino (A-line, A-line plus with CODENET)
Generic (freely definable TCP-protocol)
The marking of products is an important task in the production shift. Products, marked with false information, are often rejects and therefore very expensive. The direct provision of information from production databases for printers with the OPC Router instead of manual setup can avoid loss of time and money.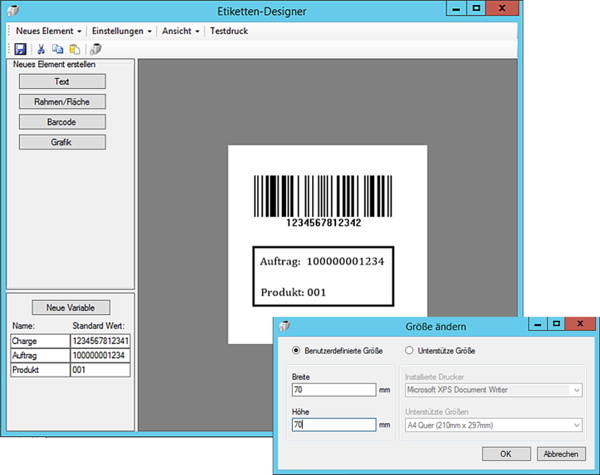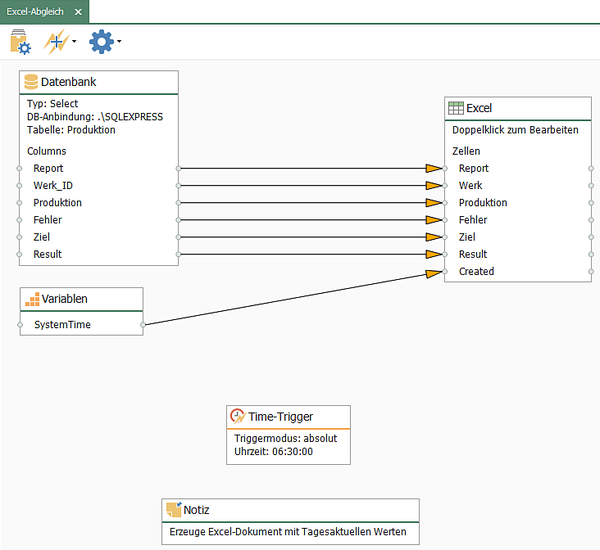 Reading and writing Excel-tables
Access element for read and write operations
Different modes for updating or inserting data into documents
Replace manual data entry with automatic data transfer and continue working with your familiar files
Processing text files
Quickly reading and processing of large text files
Text files in exchange folders of subsystems can be specifically processed and e.g. transferred to databases
Integration of existing systems into MES-structure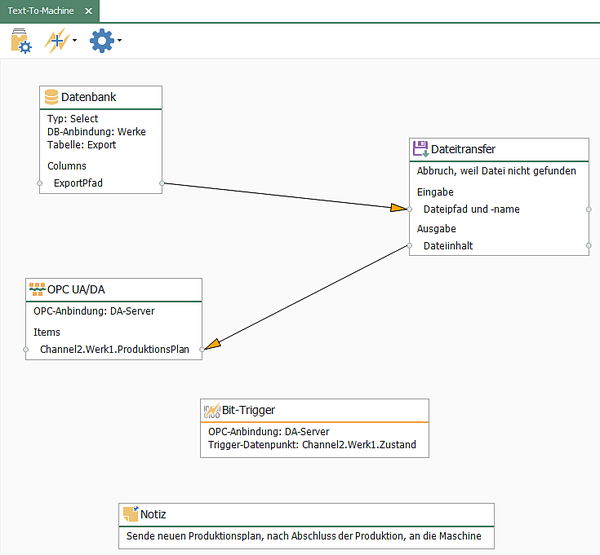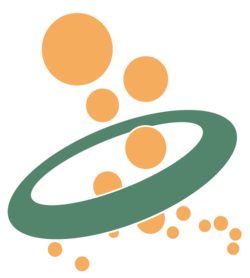 Server license without limits
The licenses for the OPC Router are always valid per server license and include any number of clients, operating pages, data points or connections.
Thanks to modular licensing, our software pays for itself even when using fewer functions
Each plug-in is licensed separately, additional plug-ins can be licensed at any time
Photo credits: © inray Industriesoftware GmbH