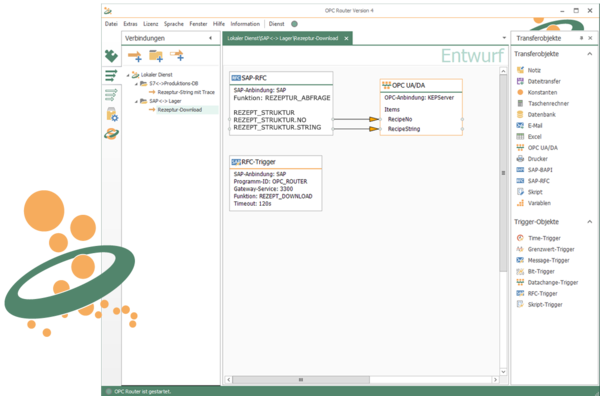 OPC routers and SAP® systems
Coupling production and SAP® systems
The OPC Router connects your entire production network to the office software. The module used is certified as "SAP® Certified Integration with SAP® NetWeaver".*
Coupling production and SAP®-systems
The OPC router plug-in enables you to connect your production processes with the most frequently used ERP-system worldwide. Instead of complex SAP® solutions, you use standard interfaces. You don't need any programming knowledge, you just create the connection via graphical configuration.
Synchronous communication between SAP®-system and PLC via BAPI/RFC, asynchronous communication via IDocs is possible. There is no limit to the number of data points and connections. A transfer call is also possible from SAP®-system via RFC.
*The software module, used to connect to the SAP systems is certified. SAP®, SAP® NetWeaver, BAPI are registered trademarks of SAP® AG in Germany and many other countries.
Coupling with SAP®-systems in the company
Download of production orders
and recipes into the production
database or directly into the PLC
Storage location enquiries by the PLC, releases and transfer orders
from SAP® system in response
Production confirmation by
PLC, booking confirmation
via SAP®-system.
consumption-reports and
daily material status information
(for automatic entry
without manual intervention).
Storage-/retrieval-releases and
contracts
Process data acquisition
Connection of energy meters
Photo credits: © inray Industriesoftware GmbH