Factory Application Server FAS
Production portal for MES applications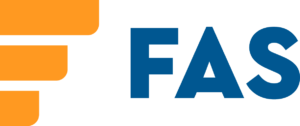 The FAS production portal combines all MES applications or projects on a uniform web interface. Access is granted with individual authorization via a web browser from any computer, smartphone or tablet - without installation, without client license, without browser plug-ins.
The functions of the FAS range from simple data input via web form and production control to complex, multilingual cockpit display and visualization with live data from PLC and production database. Get to know the FAS through our beginner training. After the training, you can test the FAS in your own company using the demo version.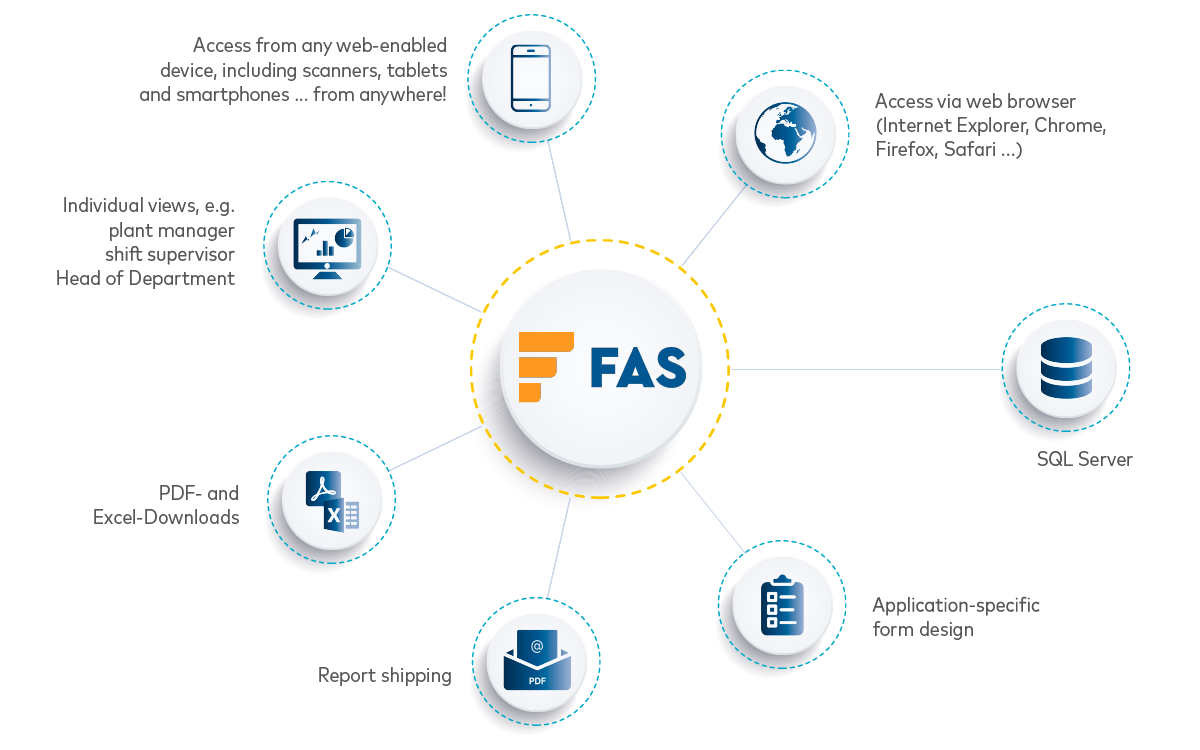 What does the Factory Application Server offer?
The FAS can be used as a complete Manufacturing Execution System (MES) or to complement existing systems.
The production portal offers extensive functions for monitoring and controlling your production processes:

Visualize comprehensive asset and business data, manage and communicate order information, or configure custom alarms.
Thanks to modular licensing, the FAS is economical to use, even if only select functions are needed.
The advantages of the FAS at a glance:
·        No client installation required: The FAS is installed on a central server and can be easily accessed via web browser (Chrome, Safari, Firefox,...).

·        Flexible access options: Access to the FAS is possible from any location & from any web-enabled device.
·        Individual View Options: Different departments or positions in a company, including e.g. plant managers, shift managers and department managers, can each have their own custom views displayed.
·        Investment protection through scalability: The FAS visualizes your entire production - additional systems can be added at any time. There is no limitation of application pages, data accesses, clients and users.
More individuality with FAS modules
The functionality of the FAS can be flexibly extended through the use of various modules, always focusing on your individual project requirements.
In the following, we will introduce you to the Live Charting and Web Reporting modules.
While live charts let you monitor your production operations down to the last detail, custom web reports ensure that the right people in the organization are informed in a targeted manner.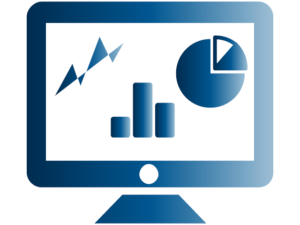 With the Live Charting module, you maintain control over the status of your assets and other important processes in the company at all times.
Create custom views and visualize multiple assets in a live graph if needed.
Use formulas and constants as data sources (see also FAS inMove) and easily zoom into charts. Displaying historical data is also no problem with the Live Charting module.
You can easily adapt the visualization to your specific needs via a targeted data selection and the setting of limit values.
The Web Reporting module of the FAS enables the creation of user-defined, web-based reports.
Reports can be accessed easily via web browser - anywhere and on any web-enabled device.
Comprehensive access management ensures that different people in a company only receive the information that is relevant to them.
·        PDF and Excel downloads: The created reports are available in PDF and XLS formats.

·        Automated emailing: Reports can be sent by mail to selected people.
·        Numerous options for visualization: In the Web Reporting module various chart types are available, including column, line and 3D charts.
·        Clear interface: In the report overview the created reports can be filtered and selected specifically.
·        Fully customizable: Create an interface that is completely tailored to your needs.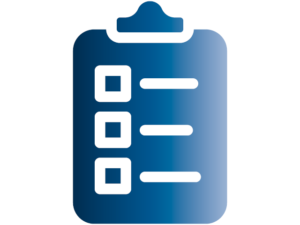 FAS inMove - Controlled configuration of data sources
FAS inMove acts as an interface between your machines (field level) and a high-performance, historical database. The FAS comes with its own database structure. Among other things, you have access to automatically created quarterly databases.
FAS inMove offers extensive options for data preparation and data processing:
·        Prepare live data for live charting by applying custom formulas to it.

·        Record historical data and use it for analysis and reporting.
·        Use personalized alarm messages to ensure that the right people are informed in case of an emergency.
With FAS inMove, you retain complete control over your data utilization.
Your new job
is only a few clicks away.
We are a young, dynamic company of around 70 employees and one of the market leaders for Industry 4.0 software. Join our team!
Your new job is


is just a few clicks away
We are a young, dynamic company of around 70 employees and one of the market leaders for Industry 4.0 software. Join our team!