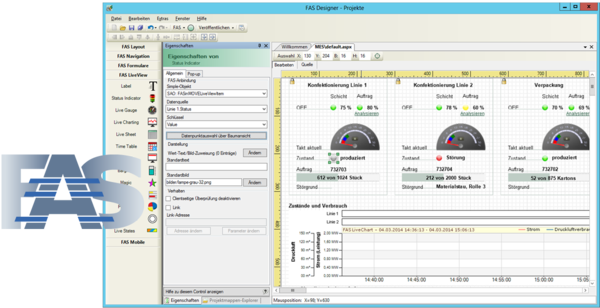 Factory Application Server FAS
One production portal – 100 % web
The FAS production portal combines all MES applications or projects on a uniform web interface. Access takes place with individual authorization via a web browser – from any computer, smartphone or tablet, without installation, without client license.
All MES applications in one portal
The functions of the FAS range from simple data-entry via web-forms and production-control to complex, multilingual cockpit-display and visualization with live data from PLC and production-database.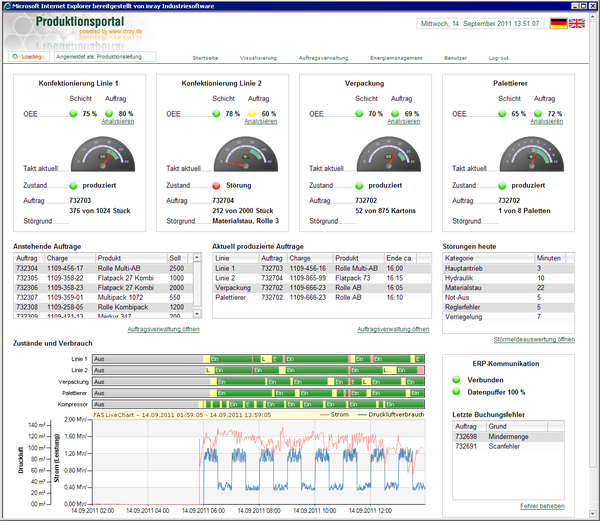 Your advantages with the FAS
Use as a complete MES or to supplement existing systems
a server installation, no client installation
gradual introduction possible
Scalability guarantees investment protection: The FAS grows with your requirements
Data exchange with external systems for efficient data use
economical even when using fewer functions thanks to modular licensing
Multilingualism: Flexible translation of the interface
no limitation in the number of application pages, data accesses, clients and users
100% Web. No browser plug-ins required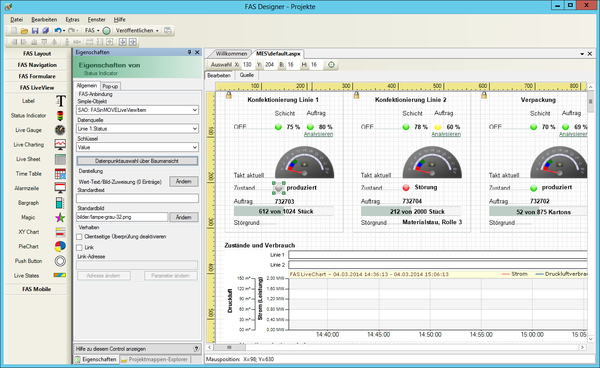 Graphical project development with the FAS Designer
For fast development of application pages, the basic license includes the graphical designer. The project development can be created as an service from inray or by yourself. Setup is very easily thanks to the wizard-protected configuration of the machine data acquisition.
NEW: FAS Web-Reporting – Web-Reporting directly with your browser
The functionality of the FAS can be optimally extended via various modules
Realize your individual projects with the FAS-modules.
Various modules are available for this purpose:
Licensing model
no limit in the number of connections
no limit in the number of data points
any number of users
any number of clients
any number of application pages, also self-planned
Basic license: Server, Designer and OPC Connect
all other modules can be licensed once per server as required
for any number of applications
System requirements Computer-performance
System requirements Computer-performance
Extremely dependent on scaling. We recommend a server with a multi-core processor (4 cores), at least 6 GB RAM (8 cores and 12 GB if the database server is also running on the computer) and hard disk space with RAID-10 technology.
Operating system: Microsoft Windows® Server with .NET 4.5 from Server 2008 R2 to Server 2012 R2. We recommend Windows Server 2012 or 2012 R2.
HTML-5-fähiger Browser als Client (IE ab 9), aktuelle Versionen von Chrome, Firefox, Safari …
System requirements database
An existing database server can be used
Storage of module configurations and PDA-start also on free SQL Server Express (included) (from version 2008)
Full version of Microsoft SQL Server available via inray as Microsoft partner with special conditions
Evaluation possible on desktop-PC/workstation-computer as well
Photo credits: © inray Industriesoftware GmbH